Dr. Thomasson and staff will educate our patients by listening to your concerns, answering questions and providing as much information as possible to help you have a better understanding of your overall dental health. We are skilled and experienced in general, restorative and implant dentistry. We hope to provide you and your family with healthy beautiful smiles.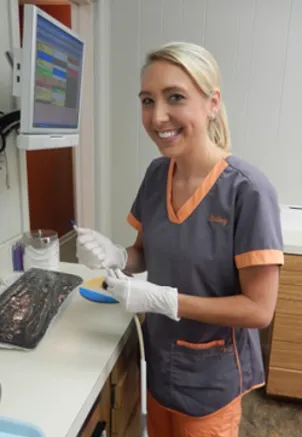 Education & Prevention
As a local dental practice, we truly believe that preventative care and education are vital to good oral health. Our focus is to provide this expertise to all our patients. We accomplish this through thorough exams - checking the overall health of your teeth and gums, performing oral cancer screenings, and taking x-rays. We provide a personalized cleaning schedule because studies show routine professional cleanings are helpful in preventing gum disease. We also recognize that oral health is intimately related to your overall health. Therefore during each visit, we review your medical history to evaluate any new medications or illnesses that may impact your oral health.
Treatment Needs
A standard of excellence in personalized oral care enables us to provide the dental services that our patients deserve. We provide treatment plans, insurance benefits information and answer all questions prior to any service. We are dedicated to you as a patient, whether you are here for a simple procedure or a more extensive treatment. As a general dentist, Dr. Thomasson provides a wide range of services in our Madison location. When required, we work with a variety of fine specialists to ensure all your treatment needs are met.
Sedation
We know for some people dentistry may evoke anxiety and even fear, which often prevents patients from seeking dental care they need. With that in mind, we strive to offer the most comfortable and pain-free dental experience possible. We offer nitrous oxide (Laughing Gas), oral sedation or IV conscious sedation to put you at ease during your dental procedure.
Dental Services Available
Comprehensive Exams including Second Opinions and Consultations
Emergency Dental Care
Extractions and Oral Surgery
Tooth-Colored Bonded Fillings
Sleep Apnea Treatment
Custom Athletic Mouth Guards
Root Canal Treatment
Crowns, Bridges , and Veneers
Partials and Complete Dentures
Bone Grafts
Teeth Whitening (In-Office and Custom Bleaching Trays)
Sealants
3D imaging