Posts for tag: crowns
By THOMASSON DENTAL
November 05, 2020
Save yourself oral health and smile appearance problems created by dental extraction. Instead, opt for a beautiful porcelain crown from Thomasson Dental in Madison, TN. Your dentists, Dr. Mark Thomasson and Dr. Andrew Thomasson use these realistic restorations to support failing, infected, overly worn, or otherwise weak teeth, prolonging their usefulness and improving smile appearance.
The details on dental crowns
A crown is a porcelain restoration shaped like your natural tooth. Superior to an extra-large filling or multiple fillings, a crown protects against further decay, fracture, or infection. It maintains a realistic appearance and prevents damage to or misalignment of remaining natural teeth. The American College of Prosthodontists reports that the single dental crown is the most commonly used dental restoration in the United States.
Your dentist in Madison, TN, advises crown placement when:
You have root canal therapy to heal infection and relieve inflammation.
You have received a dental implant.
Your tooth is cracked, chipped, or worn.
You desire a better tooth shape, size, or color.
A multi-tooth bridge requires support.
All-porcelain crowns are noteworthy due to their custom-crafted color, size, and shape. Placed on front teeth, back teeth, and anywhere in between, these restorations are the treatments of choice because of their longevity and reliability. Most crowns last at least 10 years.
Getting a dental crown
There are a few steps involved. They include:
A complete oral exam and digital X-rays
Oral impressions to render a negative imprint and model of your natural tooth
Enamel reduction (performed with locally-injected anesthetic) to remove damage and properly shape the healthy tooth structure
Wearing a temporary crown
Removal of the temporary and placement of a permanent crown
After you receive your new crown, you will care for it just as you do your other teeth. Brush and floss every day. Avoid teeth clenching with a mouth guard, and do not chew ice or non-foods such as plastic packaging. See your dentist in his Madison, TN, office twice a year for a professional cleaning and check-up.
Partial crowns
If you have a very large filling on the chewing surface of the molar, Dr. Thomasson may recommend a partial crown. An inlay is a partial porcelain crown that lies between the cusps, or corners, of a back tooth. An onlay is a partial crown which replaces cusps and the surface between them.
These restorations are just as realistic as full crowns. They serve to strengthen teeth and match tooth color and texture perfectly.
Find out more
Get the details you need to decide if a crown is right for your smile. Call Thomasson Dental in Madison, TN, for a consultation with one of our wonderful dentists. Dr. Mark Thomasson or Dr. Andrew Thomasson want you to have your best oral health right now. Phone the office team at (615) 865-1732.
By Thomasson Dental
July 31, 2018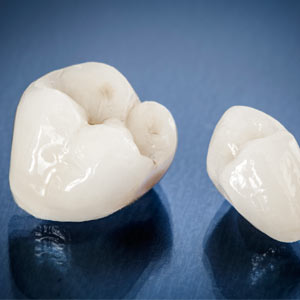 If you're in need of a crown to cover a damaged tooth, you have a lot of options. But before you choose, you need to know what you want. Would you be happy with an affordable, well-fitting crown that holds up well and allows you to chew comfortably? Or are you interested in a more expensive one that also provides the most attractive result?
Crowns have been a mainstay in dentistry for generations. The first were made of metals like gold or silver — durable and effective but not very attractive.
In time, a ceramic material known as dental porcelain began to make its appearance in crowns. Dental porcelain could be fashioned to resemble the color and texture of natural teeth, but it had a significant drawback: it could be brittle and subject to shattering under chewing pressure.
This problem was somewhat addressed with the innovation of a crown with a metal substructure fused with an outer layer of porcelain. These porcelain-fused-to-metal (PFM) crowns combined the best advantages of both materials: strength and life-likeness. Up until around the mid-2000s, PFM made up over 80% of crowns.
But later porcelains continued to improve in strength, beginning in 1993 with the introduction of a Lucite-reinforced material. Newer formulations like lithium disilicate or zirconium oxide (now considered the strongest porcelain) have made all-porcelain crowns a viable option. Today, an estimated 60% of new crowns are all-porcelain.
From an appearance standpoint, all-porcelain crowns achieve the best results. The most realistic crown can be costly — not because of the material but the level of artistry required. A skilled dental technician will spend several hours, including brushing on as many as fifteen coats of liquid porcelain to the crown, to achieve the most life-like outcome. Your insurance plan, if you have one, will most likely not pay as high a percentage for that type of crown.
In the end, it's your decision as to what type of crown you wish to have. We'll help you weigh your options and decide what's best for you and your budget.
If you would like more information on crown options, please contact us or schedule an appointment for a consultation.